We just added three more books to our shelves. Two that your tweens will adore, and a bestselling romance.
Warriors: The Broken Code, Book 2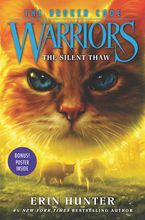 This bestselling series has been beloved by pre-teen children for years, and the author doesn't disappoint. In this story,

ThunderClan's leader, Bramblestar, has been behaving erratically after losing one of his nine lives, and suspicion is quickly spreading across Clan borders. And when a strange apparition sparks unrest in SkyClan and ShadowClan, each warrior must decide where their allegiances lie—with their Clan, or the warrior code itself.
Packed with action and intrigue, this sixth Warriors series is the perfect introduction for readers new to the Warriors world, while dedicated fans will be thrilled to discover the new adventures that unfold after the events of A Vision of Shadows.
Hardbound (with a poster inside the jacket).
$12.59
Wings of Fire, The Poison Jungle (Book 13)
Kids love this New York Times bestselling series. My son gets his hands on the newest book asap...
It's no secret that Sundew wants to destroy the HiveWings. It's her life's mission to exact revenge on the tribe that tried to wipe out the LeafWings and ripped every tree from the surface of Pantala.
Every tree, that is, except the wild and dangerous Poison Jungle, where the surviving LeafWings have been hiding since the war. Hiding, plotting, and waiting for a dragon like Sundew, who is uniquely qualified to bring down the Hives.
There are dark secrets in the jungle, though-some that Sundew is keeping, and some that she's only just beginning to discover. And now that a new war is upon them, Sundew and her friends must unearth the oldest secret in the jungle-even if what they find has the power to destroy them all.
Hardbound
$9.59
Edenbrooke
We've had Julianne Donaldson's Blackmoore on our shelves since the beginning. But when I saw we could get Edenbrooke and match Amazon's price, I jumped at the chance. This regency romance is published by Utah's own Shadow Mountain Publishing.
Marianne Daventry will do anything to escape the boredom of Bath and the amorous attentions of an unwanted suitor. So when an invitation arrives from her twin sister, Cecily, to join her at a sprawling country estate, she jumps at the chance. Thinking she'll be able to relax and enjoy her beloved English countryside while her sister snags the handsome heir of Edenbrooke, Marianne finds that even the best laid plans can go awry. From a terrifying run-in with a highwayman to a seemingly harmless flirtation, Marianne finds herself embroiled in an unexpected adventure filled with enough romance and intrigue to keep her mind racing. Will Marianne be able to rein in her traitorous heart, or will a mysterious stranger sweep her off her feet? Fate had something other than a relaxing summer in mind when it sent Marianne to Edenbrooke.
Quality Paperback
$11.36